eNETEmployer - Your Workforce Management Solution

eNETEmployer offers total employee management through a suite of online tools for Human Resource, Payroll, Employee Scheduling and Time and Attendance management. Use it to empower your business and reduce the rising costs associated with employee management.
Convenient, Cost Effective and Reliable - Imagine the convenience of calculating your payroll at a time that's convenient to you. If you have an internet browser, you're ready to work with the program - it's that simple. And if you're currently outsourcing your payroll, eNETEmployer will perform all the same functions at a fraction of the cost. And with no more software backups and updates to perform, you can be assured that the program is at the ready when you are.
Read below to learn more about the various modules option that are available for your organization!
---
Payroll
eNETEmployer's payroll module allows you to effectively manage your employee payroll processing and records including salaries, wages, bonuses, and deductions. Whether simple or complex, eNETPayroll will make the employee payment process faster and more effective.
Click here to learn more.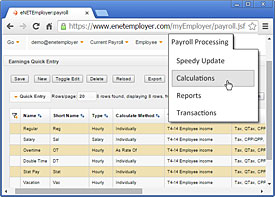 ---
Human Resource (HR)
Deal efficiently with personnel management issues by managing your organization's HR. Coordinate employee compensation, benefit entitlements, leaves, employment equity, group insurance, employee evaluations, performance reviews and more.
Click here to learn more.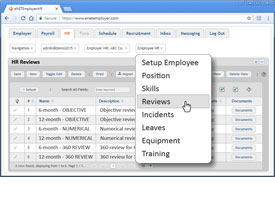 ---
Employee Scheduling
This powerful module allows you to automate the process of building weekly employee schedules. Our intuitive interface allows you to define labour requirements based on a variety of parameters; by task, location, time period, employee availability and skill sets.
Click here to learn more.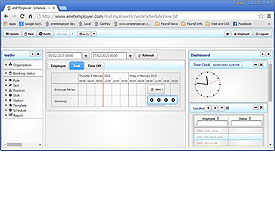 ---
Looking for a Payroll Solution in Canada?
CanPay provides Payroll and Human Resource software and online solutions for thousands of companies across Canada. If your business has a unique payroll or HR need or you are simply looking for an alternative to your current method, contact us today. We can offer you a customized solution that will suit your unique business requirements. Please call 1-800-665-5129 or send a request e-mail to: sales@canpay.com.